A long due; Government's indifference takes ugly course for quake survivors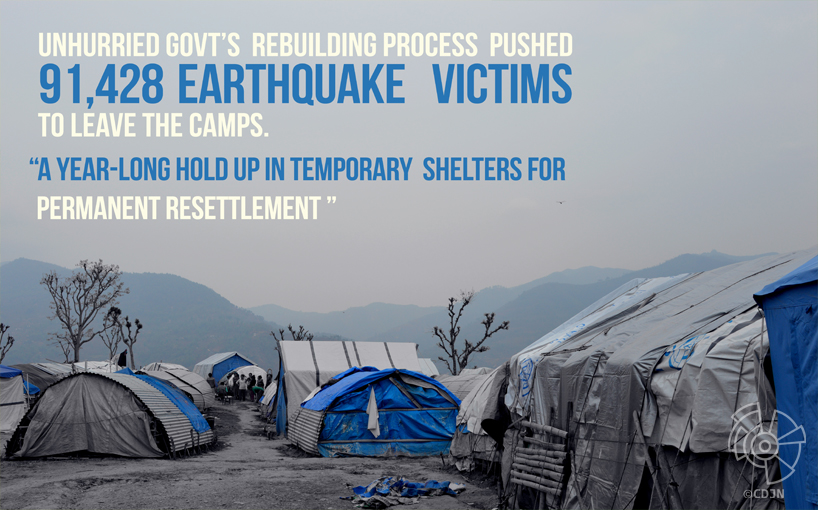 Arun Karki / Sunil Dhungana I 2 May 2016
According to the sites accessed by IOM Nepal - 26,272 people from 5,727 households -are living in different temporary camps from 14 earthquake-ridden districts. More than six- hundred thousand houses were destroyed, and as per development agencies just less than 5% houses have been rebuilt till the end of April 2016 apart from government's effort. Not a penny has been disbursed out of $ 4,1 billion pledged by donors in June 2015. The amount was announced for rebuilding and rehabilitation followed by Post Disaster Need Assessment (PDNA) report prepared by Nepal Government.Forced migration from temporary camps is 78% (91,428) since last year's Displacement Tracking Matrix record (117,00) collected by IOM Nepal. Government's announcement to rebuild a house for each family of $ 200 has reached to less than 1 % of total victims.
Many of the quake survivors residing in temporary shelters have left the camp sites with little information of their whereabouts, said Government authorities. 60% of individuals vacated the camps from Dolakha district, one of the worst hit compared to April 2015. The figure is different in the earthquake epicenter district Gorkha where it increased with new 60% camp members. Out of 14 hard districts, 10 districts have withdrawal of invidividuals from various camps in a year, as per the data of IOM Nepal.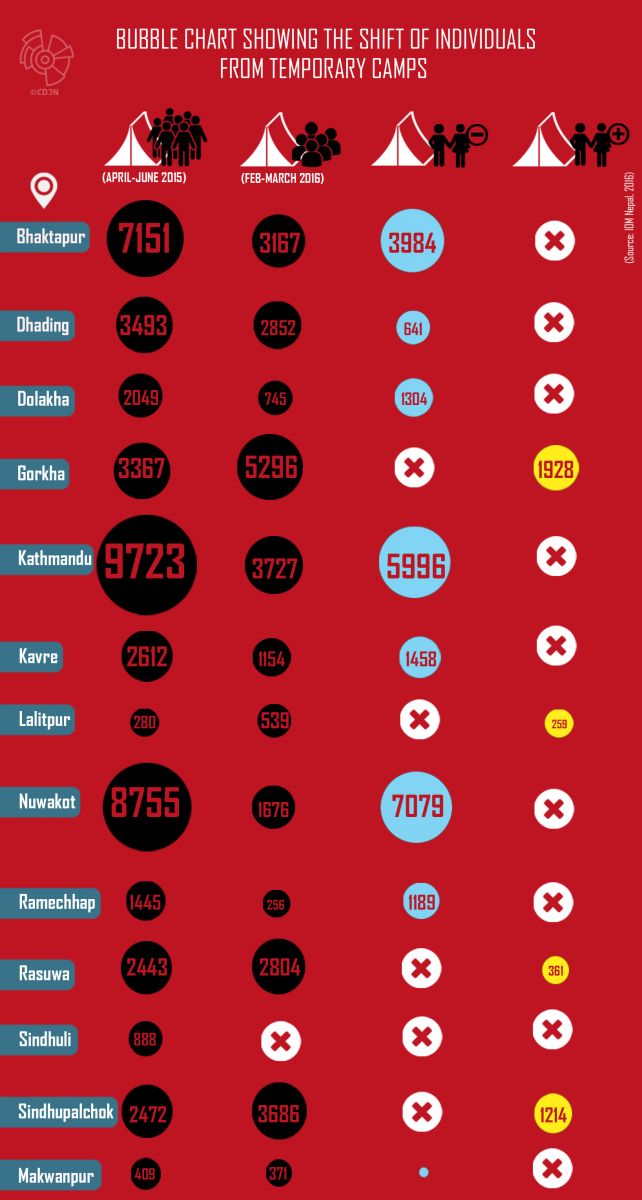 Households of 1039 with a total of 5295 individuals from 11 different camp sites accessed in Gorkha district as the number tumbles in another quake ravaged district Dolakha, sheltering 745 individuals in temporary camps with 182 households in 2 sites accessed in March 2016.